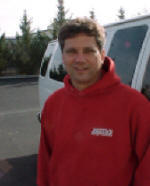 Motive Systems was started in 1981 by Randy Coons (pictured) as a custom welding and fabrication shop. Originally located in Martinez, CA, Motive Systems focused on specialized fabrication and assembly of premium road racing Go-Karts and Karting accessories.
In 1986, Motive Systems relocated to the central coast by moving to Paso Robles, and has steadily grown ever since. In 2005, Motive Systems incorporated, and in 2006 moved into our present 12,000 square foot facility.
Motive Systems has continuously grown each year, and continues to service several clients with excellent, direct service of precision CNC machining, custom weldments, and specialized welding. In 2005, Motive Systems acquired a WardJet z613 Abrasive CNC Waterjet machine and has started a shape cutting job shop department known as WaterjetCentral. Motive Systems currently has 13 employees.
.